Bail FAQ
What is bail? How is it different from bond?
⤢
Bail is money paid as collateral to ensure your appearance in court. After you are arrested, you will be held in jail until your initial appearance in court, where a judge or magistrate will review your charges and set an amount of bail. If you pay bail, you agree to appear at a later date for court, and after your case is closed, the full bail amount is returned to you.
If you cannot afford the set bail amount, you can pay a bail bondsman a nonrefundable fee of 10% of the set bail, and you must include some other collateral (typically your home or car).
No. Bail is supposed to...
Increase court appearance rates
⤢
Cash bail as collateral to appear in court isn't effective, and often defendants fail to appear (FTA) in court due to confusing summons, obligation to be at work, hospitalizations, etc. rather than "jumping bail."1 If a person cannot post bail and are subject to pretrial detention, there are higher FTA rates associated with longer stays in pretrial detention.2 The longer a person remains in jail, the less likely they will be able to afford to disrupt their day-to-day outside bars for additional court appearances.
Use the least number of jail beds
⤢
Higher monetary bail amounts increase jail bed use, because fewer people can afford to post their own bail and are subject to pretrial detention in jail. High bail amounts do not increase court appearances.3
Reduce harm to the community
⤢
We argue that cash bail and pretrial detention are not effective at protecting communities and in fact cause community members significant harm.
Two primary factors proven to reduce recidivism rates are disrupted by pretrial detention, access to interpersonal relationships and community ties. This leads to a rise in recidivism rates among those held for the full pretrial period.4
Is annual income considered when bail is determined?
⤢
Judges in Utah are not required to consider a person's ability to pay bail when setting the bail amount. In October 2020, HB 206 is enacted and requires courts to "consider" an individual's ability to pay, but the law does not require more than consideration.5
Monetary bail is currently assigned without regard to how much the accused can pay and disproportionately affects those from low income ZIP codes.6 Even with relatively low bail amounts ($500 or less), 40% of people remain in pretrial detention for the full term.7
Why are bail bondsmen a bad option?
⤢
If you miss your court date, the bond company has legal claim on any assets you put up as collateral. Companies can take your home, your car, your driver's license, and more. Bail bond companies profit from 10% nonrefundable fees as well, and have lobbied Utah judges to set higher bail amounts so that people are more likely to use a bondsman and the 10% fee is automatically increased. This predatory behavior is expected to become less prevalent under HB206.
What is the difference between jail and prison?
⤢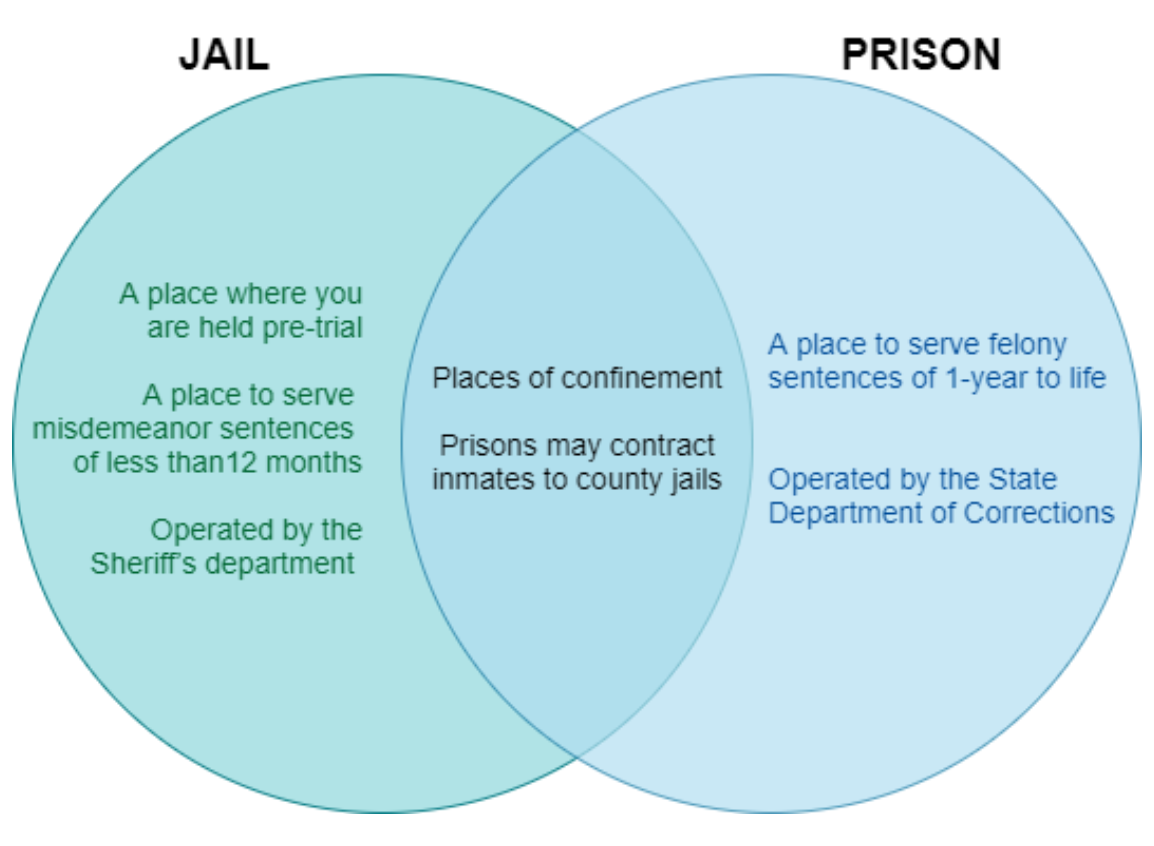 Have jail inmates been convicted of a crime?
⤢
78% of people currently held in Salt Lake County jails have not been convicted of a crime.8 They are presumed innocent under the law, but remain in jail solely because they are unable to afford their bail.
Current pre-trial detainees have been in jail for an average of 158 days, 5.2 months.8
No jury trials are currently being held due to COVID-19. This means that people may await trial for many months, or longer. Some have already been waiting for more than a year.
How does pretrial detention impact an individual's outcome in the larger criminal justice system?
⤢
There is a statistical connection between serving pretrial detention and being convicted/sentenced to incarceration.9
Multiple studies show that a detention stay of three days or longer put the defendant 13-26% more likely to be convicted.6,10
Guilty plea rates can be much (up to 25%) higher for those detained pretrial than those released pretrial. A plea deal can be the quickest way for people to get out of jail and return to their lives.4
People who spend time in pretrial detention receive harsher sentences than those who are at liberty pretrial.Those detained for the entire pretrial period are 4 times more likely to receive a sentence that includes incarceration. Those detained for the entire pretrial period serve 2 times longer sentences.11
Most people spend more time in jail due to the pretrial process than they would if they had been released pretrial and sentenced to incarceration.12
Time in jail limits a person's financial resources in securing a proper defense due to loss of income.4
Pretrial detention also prevents people from participating in measures that would increase likelihood of their acquittal, such as paying restitution, seeking treatment, and pursuing educational/employment opportunities.4
How much does pretrial detention cost taxpayers?
⤢
In 2019, Salt Lake County jails spent $95,418,656 — 28% of the entire county's expenditures in 2019.13
How does pretrial detention impact our community members?
⤢
Spending time in jail can threaten a person's well-being and their livelihood. Not only is jail a hazard to physical and mental health, being detained can put a person's job, education, housing status, and the custody of their children at risk. Families suffer too. Having a primary caregiver or provider in jail can be devastating for dependents and partners.
How are Black people, Indigenous people, and other people of color impacted by bail?
⤢
Communities of color are are jailed at higher rates.
Black people are currently overrepresented in Salt Lake County Jails by a factor of five.8
Indigenous people are overrepresented by a factor of three.8
BIPOC are less likely to be released pre-trial than white defendants.14
Black people, when assigned monetary bail, receive significantly higher bail amounts than white people.15
How are women impacted by bail?
⤢
Women are disproportionately affected by monetary bail.
Women are less likely to afford bail when it is set.16
Women are more likely than men to have lacked employment pre-arrest and generally make less than men when employed.17,18
Women are more likely than men to absorb the financial burden of a family member's incarceration (bail, court fees, attorney fees, etc.). This deepens their family's financial strain in most cases.19
Women are more likely to render a guilty plea with a "time served" credit than their male counterparts. Authors postulate due to the overwhelming need for single mothers to return to their children.20
How are transgender, gender non-conforming, or LGBTQI+ individuals impacted by bail?
⤢
There is an alarming lack of information available about the impacts of pretrial detention on queer, trans, and gender non-conforming people. Gathering this data is made more difficult because jails rely on the information printed on official IDs when processing inmates, which may not be representative of a person's gender identity and does not address their sexual orientation. Despite that these factors may put a person at increased risk when incarcerated, Salt Lake County jails make no attempt to gather this data. We acknowledge this gap in research and will work to bring attention to the harm that cash bail and pretrial detention can bring to these groups.
What if somebody is bailed out through the bail fund and the fails to appear for court?
⤢
SLCBF will absorb any lost bail as an expense. SLCBF works with community partners to provide simple court date reminders to help people remember to appear in court. If someone is arrested again after failing to appear, the judge will likely not set a bail amount for them and they will be forced to await trial in jail.
---
The 'Failure to Appear' Fallacy (The Appeal, 2019)
Christopher Lowenkamp, Marie Van Nostrand, and Alexander Holsinger, The Hidden Costs of Pretrial Detention (Houston, TX: Laura and John Arnold Foundation, 2013)
Michael R. Jones, Unsecured Bonds: The As Effective and Most Efficient Pretrial Release Option (Rockville, MD: Pretrial Justice Institute, 2013)
Paul Heaton, Sandra G. Mayson, and Megan Stevenson, The Downstream Consequences of Misdemeanor Pretrial Detention, Stanford Law Review 69, no. 3 (2017), 711-94
Megan Stevenson, Distortion of Justice: How the Inability to Pay Bail Affects Case Outcomes , Journal of Law, Economics, and Organization 34, no. 4 (2018), 511-42
New York City Criminal Justice Agency (CJA), Annual Report 2015 (New York: CJA, 2016)
Retrieved 2020-09-04 from Salt Lake County Jail Dashboard
American Bar Association (ABA), ABA Standards for Criminal Justice, Third Edition: Pretrial Release (Washington, DC: ABA, 2007)
Dobbie, Goldin, and Yang, The Effects of Pretrial Detention American Economic Review, 108(2), (2018), 201-240
Lowenkamp, VanNostrand, and Holsinger, Investigating the Impact of Pretrial Detention on Sentencing Outcomes (2013), 10
Pretrial Release of Felony Defendants in State Courts (Washington, DC: Bureau of Justice Statistics, 2004)
Arnold, Dobbie, and Yang, Racial Bias in Bail Decisions (2018), 1906
Elizabeth Swavola, Kristine Riley, and Ram Subramanian, Overlooked: Women and Jails in an Era of Reform (New York: Vera Institute of Justice, 2016), 29
Doris J. James, Profile of Jail Inmates (Washington, DC: Bureau of Justice Statistics, 2004)
Bernadette Rabuy and Daniel Kopf, Detaining the Poor: How Money Bail Perpetuates an Endless Cycle of Poverty and Jail Time (Northampton, MA: Prison Policy Initiative, 2016), 2
Saneta deVuono-powell, Chris Schweidler, Alicia Walters, and Azadeh Zohrabi, Who Pays? The True Cost of Incarceration on Families (Oakland, CA: Ella Baker Center, Forward Together, and Research Action Design, 2015), 9
Leslie and Pope, The Unintended Impact of Pretrial Detention (2017), 530
---